Fundamentals of Woodworking
This is a comprehensive 16 hr class for beginning woodworkers. You will learn to safely and efficiently operate 85% of the power tools in our shop.
Each student will learn to build their own small spice rack. Upon completion you are eligible to sign up for more advanced woodworking classes.
Class size is limited to 8 students. This is a popular class that fills early.
Offered on Sundays only.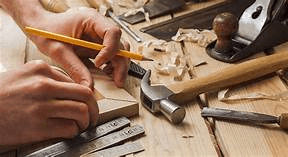 Materials: Textbook: Dis-moi! ISBN - 0673216276